Ceramic Coating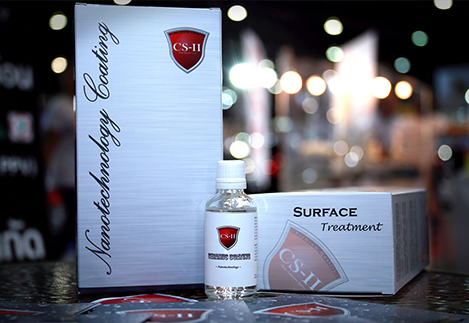 New Technology, Perfect Protection
CS-II International Inc. presents the new generation of paint protection, "Ceramic Coating", built with cutting edge technology and precision design. Ceramic Coating is semi-permanent, only requiring a single, thin coating, and provides long-term shine and protection. By inter-locking part of its molecular structure with the surface molecules of your paintwork, the result is a coating that will not be washed off like a wax.

CS-II Ceramic coating greatly reduces the penetration of heat, helping protect the finish of the vehicle. Once treated with CS-II Ceramic Coating, your vehicle will repel water and contaminants like a lotus-leaf and will maintain a clear, reflective, showroom like shine. CS-II Ceramic Coating cannot be removed by water, alkaline, other detergents, or by pressure washers. The coating can also be applied to other chrome components. One application can last up to 3 years.

At CS-II, our products will improve the durability and shine of your car's paint. After application of our paint coating, waxing is no longer required to make the paint shine and glimmer, saving you time and money. Your paint will even last longer! With all these benefits, there is no longer a reason to leave your car unprotected. Our CS-II Ceramic Coating is a special nanotechnology product that provides a long term effect on painted surfaces like plastic trim, glass, wheels and more. This is not just a sealer that forms a barrier on the surface. It is rather, a modification of the surface chemistry on a molecular level to provide a permanent, easy to clean and protected surface. This means it is not just a coating that can wash off but a compound that will bind with the surface.
The Research involved:
Our CS-II research team has been performing significant amounts of research and development on various surface treatments with the latest nanotechnology. We wanted to make a product that could do amazing things with paint.

With the use of state-of-the-art nanotechnology, we have manufactured a complete line of custom formulated protective items ranging from shields, waxes, polishes, compounds, cleaners and glaze to specialty cleaning products designed to deliver amazing results. We want our products to be the best in the business. In 2011, we will start to provide automotive dealerships with our product so they can help protect the cars you will one day buy.