Stage 2 Coating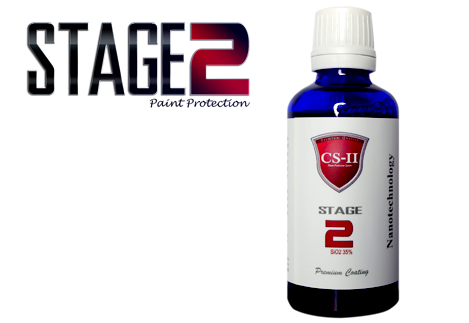 Restoring your vehicle to its brand new look
Vehicle owners are always looking for the optimum solution to ensure that their vehicles sparkle and look like new. Our answer to the problem of keeping our cars looking new is our paint sealant.

Modes of transportation, like homes, are expensive. With high temperature and air pollutants damaging your car's exterior, it makes sense to protect your investment. We have a paint protection product that will protect your car, regardless of where you live.

Stage 2 Coating comes with 18-24 month, written warranty on gloss. Stage 2 Coating, when applied professionally, will produce 5,000 nanosized resin particles over one square inch. These particles lock into the paint surface of a vehicle and seal it. No waxing is required for 18-24 months. When our paint protection product is applied, any acid rain fallout, bird droppings, or tree sap will not harm the Stage 2 coating.


Washing with our CS-II SILICON FREE car wash solution will remove any foreign particles and bring back the flawless shine created. We also have a wide variety of car care products to help enhance your car care experience.

Stage 2 Coating is a multiple-step application and can only be applied by technically trained staff.
To summarize, Stage 2 Coating will have the following advantages for your vehicle:
Protects your vehicle's paint finish and simultaneously polishes your car and adds a brilliant shine that is guaranteed to last for 18-24 months. All you have to do to maintain this shine is clean your vehicle with a microfiber towel and clean water. It's easy and mess-free!

Unlike polishes and waxes that give only a temporary shine and protection, this incredible paint sealant seals in the brilliance of the paint color and protects it from the harmful sun rays and other elements.

This coating has the added advantage of removing oxidation in your vehicle's paint and restoring your vehicle to its brand new look.